Herzlich Willkommen...
das OLC-Team freut sich, euch den weltweit führenden dezentralen online-Streckenflugwettbewerb für Drachen-, Gleitschirm-, Modell- und Segelfliegen zu präsentieren.
Das ehrenamtlich arbeitende OLC-Team bedankt sich bei Sponsoren und Partnern für die Unterstützung - nur deshalb ist es möglich, diesen Service prinzipiell kostenlos anzubieten.
OLC-season 2016
15,859 Flights
4,907,670 Kilometers
3,665 Competitors
1,009,047 Users
24,315,693 page views
OLC-season 2015
117,504 Flights
32,082,995 Kilometers
15,008 Competitors
3,422,026 Users
112,233,629 page views
OLC-season 2014
115,159 Flights
32,221,555 Kilometers
14,934 Competitors
3,278,917 Users
110,189,059 page views
OLC-season 2013
112,377 Flights
29,796,011 Kilometers
14,182 Competitors
3,134,744 Users
99,552,425 page views
OLC-season 2012
109,821 Flights
29,539,647 Kilometers
14,076 Competitors
3,201,103 Users
104,699,289 page views
OLC-season 2011
101,373 Flights
26,825,032 Kilometers
13,240 Competitors
2,684,699 Users
92,477,013 page views
OLC-season 2010
102,187 Flights
28,290,894 Kilometers
13,212 Competitors
2,256,349 Users
46,621,299 page views
OLC-season 2009
107,194 Flights
28,691,130 Kilometers
13,424 Competitors
2,023,859 Users
40,104,668 page views
OLC-season 2008
89,355 Flights
25,346,736 Kilometers
11,980 Competitors
1,753,977 Users
33,278,163 page views
OLC-season 2007
80,718 Flights
20,970,273 Kilometers
11,337 Competitors
OLC-season 2006
82,649 Flights
20,579,343 Kilometers
12,239 Competitors
OLC-season 2005
74,679 Flights
18,329,488 Kilometers
11,434 Competitors
OLC-season 2004
64,393 Flights
16,176,347 Kilometers
10,011 Competitors
OLC-season 2003
63,557 Flights
16,950,990 Kilometers
9,211 Competitors
OLC GliderRace: TOP-Training für Wettbewerbe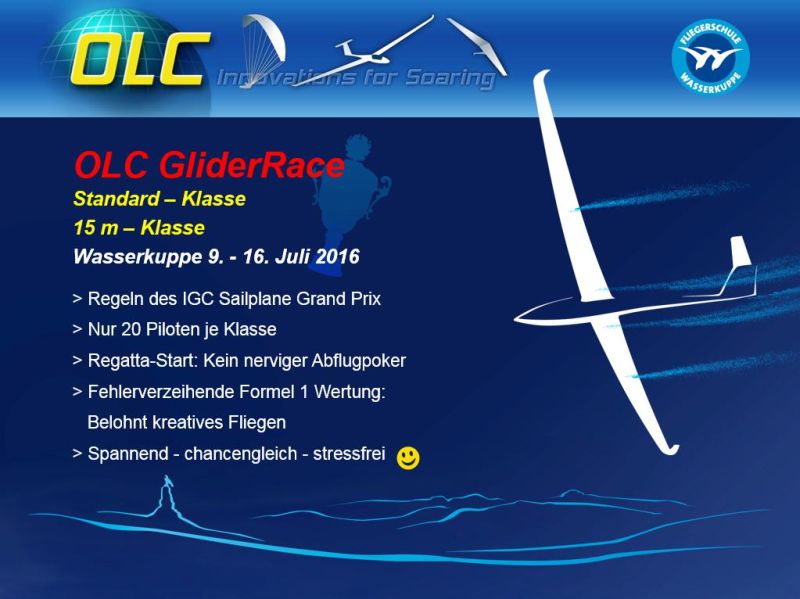 Saturday, 06. February
Neuer Ventus - Interview mit Tilo Holighaus & Bernd Weber

Bereits auf der Aero 2015 konnten Segelflugbegeisterte einen ersten Blick auf den neuen Ventus von Schempp-Hirth werfen. Am 29. Januar 2016 folgte nun auf der Hahnweide der erfolgreiche Erstflug. Im Interview mit dem OLC erklären Tilo Holighaus & Bernd Weber, was das neue Flugzeug besser kann als das Vorgängermodell, wann der neue Ventus seine Wettbewerbstauglichkeit unter Beweis stellen wird und verraten, welchen Einfluss der OLC bei der Entwicklung des neuen Flugzeuges hatte ...
Sunday, 17. January
LSG-Segelflieger Mannschaft des Jahres in Bayreuth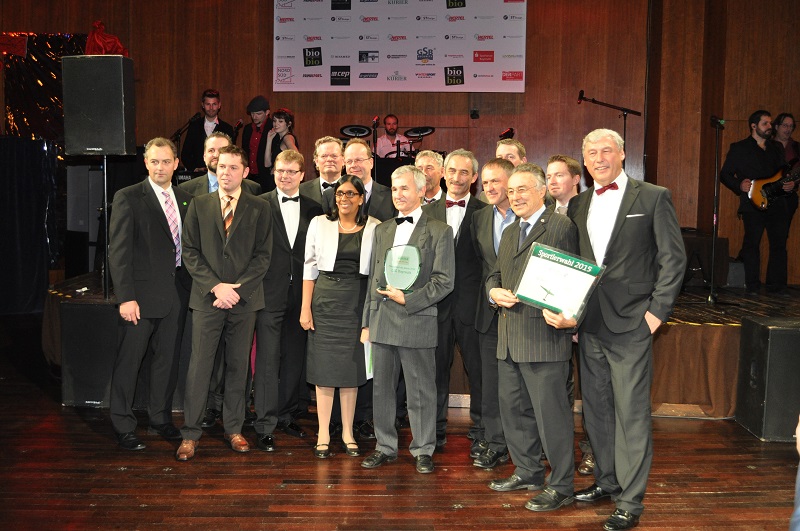 Die Segelflieger der Luftsportgemeinschaft Bayreuth haben die Wahl zur Mannschaft des Jahres in ihrer Heimstadt gewonnen. Ausschlaggebend war der Gewinn der Segelflug-Bundesliga 2015 und der World League. Beim Ball des Sports am 16. Januar hatte die Mannschaft ihren großen Auftritt vor der versammelten Sportprominenz der Stadt. "An den Segelfliegern der LSG Bayreuth führte beim Überblick über die Ergebnisse des Jahres 2015 einfach kein Weg vorbei." beschrieb der Nordbayerische Kurier in seiner Samstagsausgabe die Lage in der Jury. "Was kann man mehr verlangen, als einen Weltmeistertitel?" zitiert die Zeitung den Stadtrat und Jurymitglied Siegfried Zerrenner ...
Thursday, 31. December
Happy New Year - to New Zealand's Early Birds and to the the World of Soaring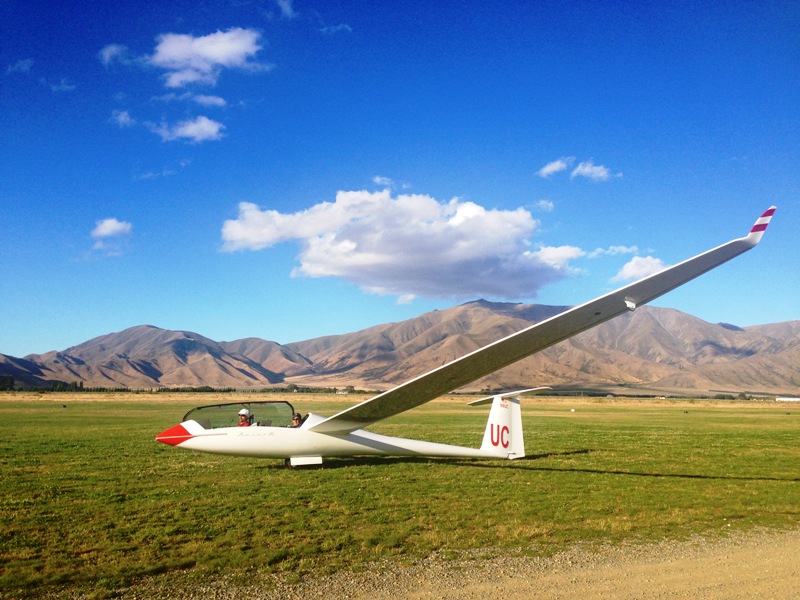 The first half of the Southern Soaring Season is now over. While some Northern pilots are lucky to be able to experience some quick winter waves, glider pilots on the southern Hemisphere are enjoying full summer. In Africa's paradises numerous European and some North American guests take advantage of the thermal season, Australia's famous fields host World Championships, and in New Zealand a number of pilots is also busy exploring the Southern Alps. They will hopefully be the first to launch into the New Year 2016! So far the best flight of NZ's 2016 season was achieved on November 14 ...
Friday, 18. December
Australia's Top 2016 Flight: Jenny Ganderton achieves her first 1000+ OLC points
A week before Australia's summer solstice Jenny Ganderton enjoyed her best flight ever and is currently placed first on OLC's Australian Champions' scores. On December 13 the ASH 26E pilot declared an 800 km FAI Triangle: Lake Keepit - Goondiwindi - Lightning Ridge and back to her home base Lake Keepit. She achieved it, and got even more than that! "I did not plan the flight very long in advance… the same morning. But we knew the day before that it would be soarable early." The first good clouds popped up over Lake Keepit at 9 am already. "I could have started earlier." Jenny skipped the club briefing to prepare her glider ...
Wednesday, 16. December
OLC Junioren in Namibia - der Traum vom Tausender wird wahr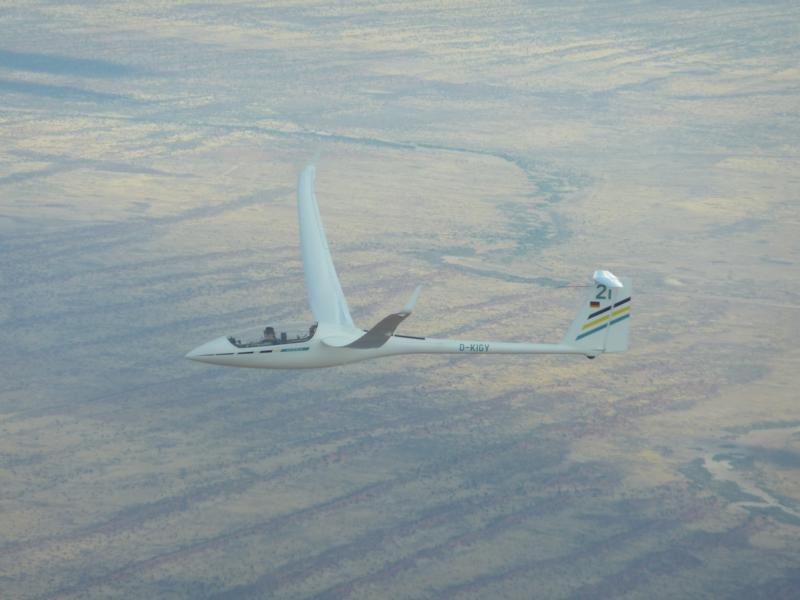 Wie auch schon in den vergangenen Jahren ermöglicht es derzeit Wilfried Großkinsky einigen Junioren dem deutschen Winter zu entfliehen und stattdessen auf der Südhalbkugel zu verbringen. Etwas überraschend erhielt auch ich, aufgrund meiner Platzierung bei der
OLC Junior-Challenge
, am OLC Liga-Finale in Gersfeld von Wilfried eine Einladung zum 1000km Camp in Bitterwasser. Ein wirklich außergewöhnlicher Preis, der neben Flug und Unterkunft auch noch die Nutzung der beiden Flugzeuge ASH25EB28 und Ventus 2cxM beinhaltet ...
Wednesday, 16. December
No Reason to be bored in Africa - Israel's Pilots invent a new Traffic Pattern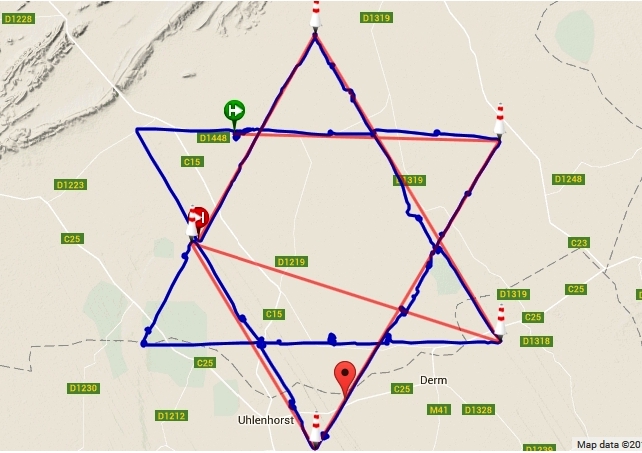 Did you already wonder about the fancy "pattern flight" over the Namib Desert lately? Last Monday two glider pilots visiting from Israel had a nice idea for a less spectacular day of soaring vacation in Africa. Rafi Luski, who piloted an Arcus M, kindly sent us his story: "The idea was to take a boring day, when the soaring conditions were expected to be weak, and perform a special task and draw a 300 km Star of David in the sky, the symbol of the State of Israel. Tthis seemed like a fun idea to me. I was happy to see the reactions of the soaring community here and in the world to this drawing ..."
Friday, 11. December
New World Record - Belgian pilot raises the bar for the 1000k-FAI-Triangle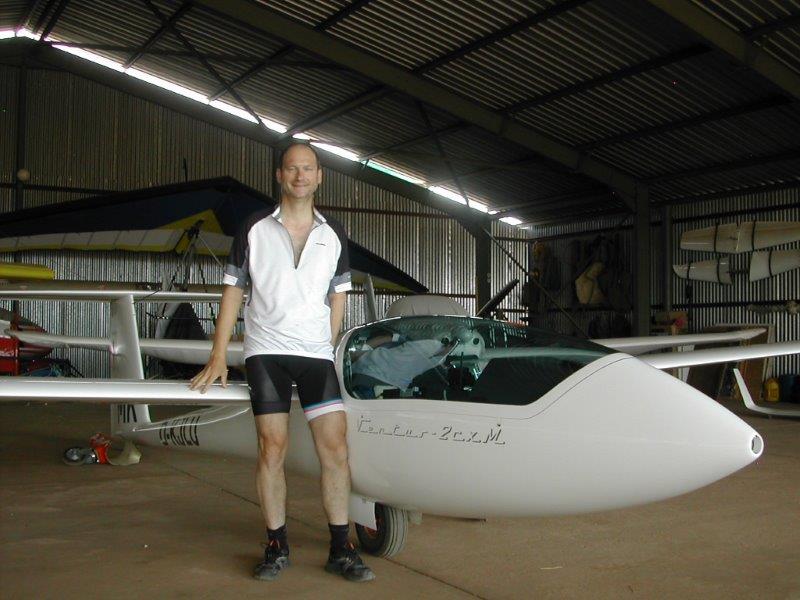 With 33 flights scoring more than 1000 OLC-Plus points, December 5th, 2015 was a spectacular soaring day in Namibia. The Belgian glider pilot Johan Luyckx launched his Ventus2cM in 15 m-configuration at 11:15 am from Pokweni for a record attempt on the 1000 km FAI triangle. Some 40 minutes later he crossed the start line at only 2540 m MSL, but then was lucky to find a first 4 m thermal near Bitterwasser taking him up to 4300 m MSL! "This gave me a boost to continue with a the typical record flying style of taking only good thermals and make transitions between 160 and 190 km/h." Soon Johan realized that a speed of 140 km/h was feasible, a new Belgian record …
Tuesday, 08. December
Top Newcomer 2016: Discus mit E-Power in der Nase (FES)

Beim OLC-Finale in Gersfeld hatte Schempp-Hirth das FES-Prinzip bereits kurz vorgestellt. Im Ventus wird es inzwischen erfolgreich eingesetzt. Gleitpunktverluste sind bei den eng am Rumpf anliegenden Propellerblättern eher ein "psychisches" Phänomen. Tatsächlich liegen enorme Vorteile auf der Hand. In Kürze werden die ersten fünf Discus-Modelle mit E-Power in der Nase an den Start gehen. Was der Modellsegelflug schon seit langem kennt, funktioniert längst auch im Grossen. Während sich der "Front Electric Sustainer" in der UL-Segelflugszene herumsprach, nahm auch Schempp-Hirth Kontakt mit dem slowenischen Piloten und Entwickler des FES Luka Znidarsic auf. Ein kleiner einfaltbarer Nasenpropeller, holt sich die Energie aus im Rumpf befindlichen Lithium-Polymer-Akkus. So werden mit einem Discus entweder 1250 m Höhe gewonnen oder der Segelflug nach Gusto verlängert ...
Friday, 04. December
Großer Auftritt für Schempp-Hirth bei den FAI World Air Games in Dubai

Vom 1. bis zum 12. Dezember 2015 finden die World Air Games in Dubai statt. Dubai bietet mit seiner Skyline und dem höchstem Bauwerk der Welt - dem Burj Khalifa eine imposante Kulisse für dieses große Treffen der unterschiedlichsten Flugsportarten. Neben den etablierten Flugsportarten werden wie Motorkunstflug, Fallschirm springen Ballon fahren, Modellflugsport und vieles mehr werden auch neue Flugsportarten wie Gleitschirmfliegen und Motorgleitschirmfliegen zu sehen sein ...