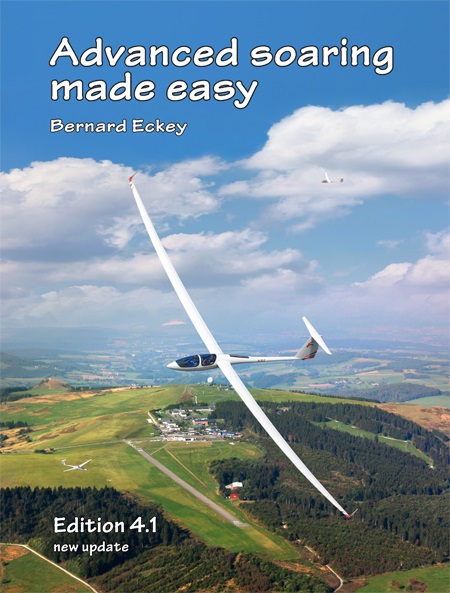 There is no shortage of publications on gliding but no other book covers the entire spectrum of this exciting sport better than edition 4.1 of "Advanced Soaring Made Easy" by Bernard Eckey. On 432 pages and with more than 180 graphics this record pilot and former head coach for South Australia lets readers partake on the lessons learned while flying on all 5 continents. His all-encompassing edition 4.1 is easily digestible, interestingly presented and it even deals extensively with topics other authors have totally neglected or only just touched on.
All four previous editions quickly sold out. They have already provided countless pilots with greater enjoyment and helped them fulfill their dreams and ambitions. Even the most seasoned of competition pilots will find their knowledge challenged and will discover hints, which might give them the edge at future championships. In short, edition 4.1 is the ultimate reference for flying higher, faster and longer.
Equally impressive are the first class illustrations, along with breathtaking air-to-air photography from all corners of the globe. This makes reading "Advanced Soaring Made Easy" a real pleasure, and this explains why this best seller is already available in four different languages. It has proven to be an open pathway for pilots with a strong desire to succeed in our unique sport.